Woodyard Insurance Group LLC.
Insurance Broker & Certified Senior Advisor in Conway, South Carolina
Specializing in Life, Health and Retirement Planning Services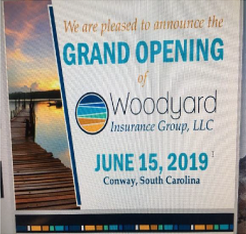 About
Woodyard Insurance Group LLC.
Hello, I'm Marlene Woodyard, Owner of Woodyard Insurance Group. I have been in the Insurance business for well over a decade. At the beginning of my career, I focused primarily on the Baby Boomer population. My mission was to provide information and assistance that helped to guide this population as they prepared for their Retirement healthcare and financial needs.
Read More
Marlene's annual reviews have not only saved me money, but I feel much more prepared for retirement.

James M. - Chesapeake, VA

2021-02-26

Marlene came to our door and offered her services to aid in the Medicare process for my husband. She researched and provided us with the best options for a supplement and prescription coverage. She made the whole process so smooth, thank you Marlene!

Kathy and Denzel -
Conway, SC

2020-07-09

We are very grateful to Marlene for her invaluable guidance as we retired and faced the prospect of signing up for Medicare. She explained in detail everything that we needed to know to make informed choices and outlined the various plans available. As an independent agent she looks out for us, not for an insurance... Read More

Glen and Judy Patterson -
Leland, NC

2020-07-09

Contact
Woodyard Insurance Group LLC.

Insurance Broker & Insurance Advisor in Conway, South Carolina

Serving across Conway, Myrtle Beach, North Myrtle Beach, Murrells Inlet, Pawleys Island, and the surrounding areas.

Top
Top